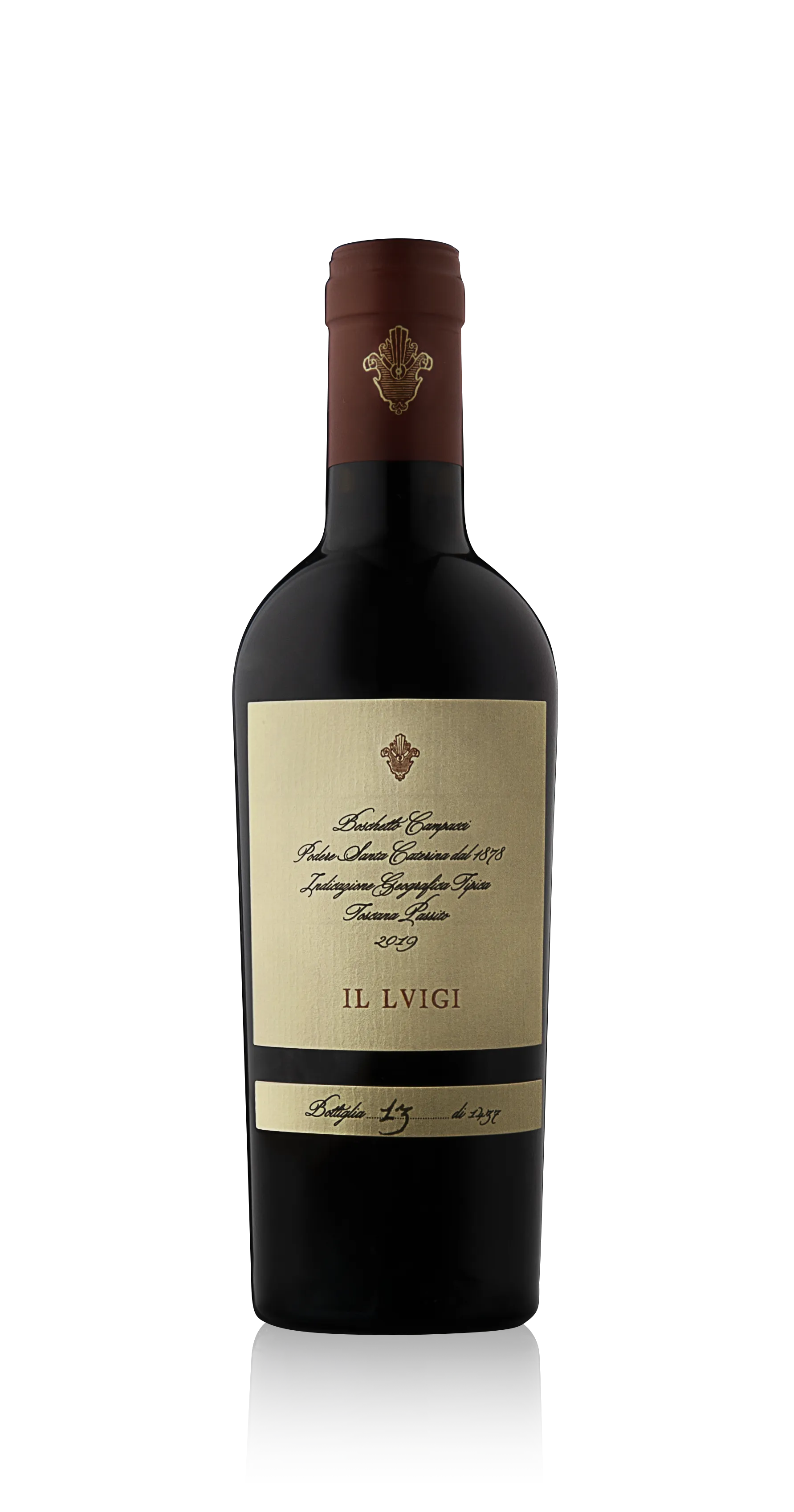 THE VINEYARD
The grapes of Il LVIGI, made from Sangiovese, come from the oldest vineyard of the same name on the property, over 50 years old, and are cultivated on a soil rich in claystone, with the presence of stones such as Colombino. A particular feature of this soil is the high presence of polychrome schists and minerals such as iron, zinc, copper and manganese, which, depending on the element contained, appear in different colours.
HARVESTING AND WINIFICATION
The grapes, harvested by hand with great care, are left to dry in special conditions of humidity and temperature that favour the presence of noble rot, Botrytis Cinerea, which reduces the water content and concentrates the sugars and aromas. The wine ferments and matures in French oak barriques for at least 30 months before bottling. Refinement in the bottle is a minimum of 6 months.
TASTING NOTES
Its appearance is amber-red in colour. On the nose, notes of ripe red fruit under spirits emerge with a particular date note, which blend with sensations of chocolate, tobacco and spices. The palate is sweet and enveloping, well balanced by a subtle acidic thorn that gives a long aftertaste. Il LVIGI is a wine with great gastronomic and evolving potential over the years.
| | |
| --- | --- |
| Grape varieties | Sangiovese and other local red grape varieties |
| Production Area | Hills east of Siena, with north/west exposure |
| Vineyard surface area | 1 HA |
| Vineyard altitude | 360 metres above sea level |
| Soil type | Red marlstone and argillites |
| Vine management | Spurred cordon and Guyot |
| Planting density | 3500 per HA |
| Harvest period | Mid-September |
| Maturation | 30 months in barrique |
| Ageing | Minimum 6 months |
| Total alcohol content | 14,5% |
| Total acidity | 5,90 GR/LT |
| PH | 3,40 |
Downlaod the datasheet - PDF